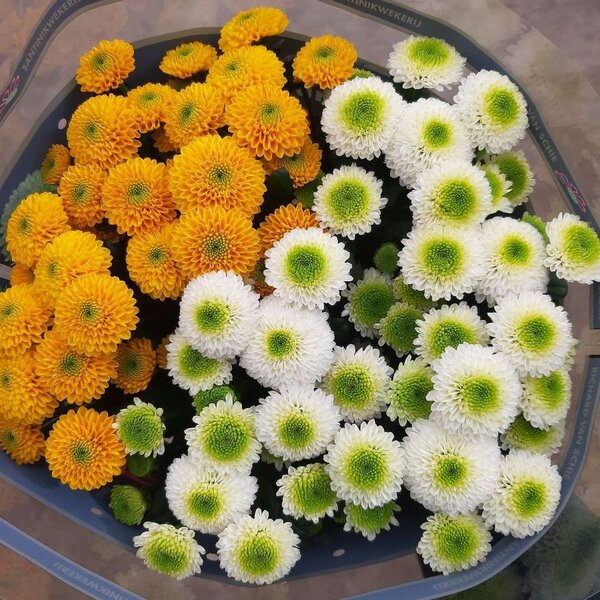 Together with breeder Floritec, Santini grower Richard van Schie proudly introduced Santini's 'Maverick White' and 'Maverick Gold'
Maverick White is a beautiful pompon santini with a fresh green center. The first reactions from the trade are very positive. The vase life is more than excellent. The stems are strong and the center remains fresh green during the entire flowering period. Maverick White also performs very well in cultivation. Due to its uniformity, this variety offers many advantages to the grower.
Maverick Gold has the same positive characteristics. This variety is warm sunny colored with an orange glow.

Maverick family
With Maverick White and Maverick Gold, a true Maverick family has been created. Maverick Sunny was introduced some time ago and has proven itself in terms of shelf life and uniformity.

Availability
Maverick series are available on the clocks in Rijnsburg, Naaldwijk and Aalsmeer through grower Richard van Schie. In addition, Santini grower G. Van Steekelenburg will start in early February 2022 with 45.000 pieces of Maverick White per week.
Grower Richard van Schie about Santini Maverick Sunny
Inspiration